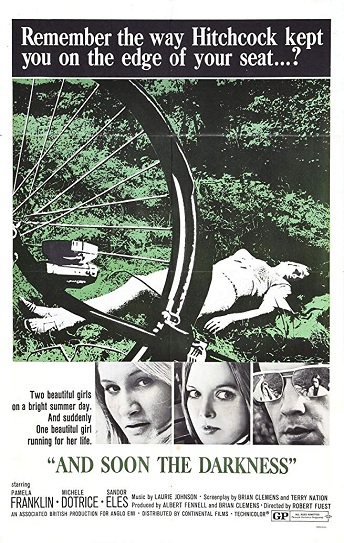 And Soon the Darkness (1970)
Free Download and Watch Online 720p/1080p Bluray Full Movie HD
Surprisingly good suspenseful mystery here! I watched a used copy of the full frame HBO Video VHS, and I'm tempted to upgrade to the widescreen DVD which also has a commentary track.
Two pretty young English women are bicycling across the French countryside using scenic backroads (shot on location). The blonde spots a young Frenchman with sunglasses at a café that she thinks is "dishy," and they keep encountering him on the road, since he speeds by on his scooter and they continually pass him when he stops somewhere (a cemetery, a café).
They rest off the side of the road on the edge of some woods, and have a spat. The brunette wants to stick to their schedule, while the blonde wants to sunbathe and perhaps even turn back around to find and talk to the young man. The brunette goes on ahead, while the blonde stays put.
The brunette feels guilty, though, and stops at a café and waits. Her friend doesn't show up. The proprietress tries to tell her something, but the English girl speaks very little French. The French that is spoken is appropriately not subtitled, putting those of us who also don't know French into her shoes. The café owner knows a tiny bit of English: "bad road." The girl decides to go back for her friend, and finds her missing, though her camera is still there.
There are a lot of suspicious people in the movie. The young man with the sunglasses is the first obvious suspect, but there's also a farmer in a field, the café owner and a man in overalls at her café, an older British lady, a gendarme, the gendarme's father…. The poor English girl doesn't know who she can trust.