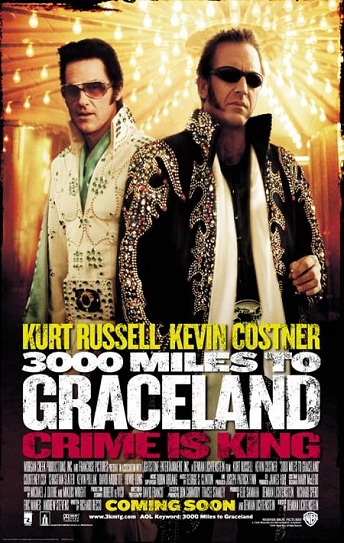 3000 Miles to Graceland (2001)
Free Download and Watch Online 720p/1080p Bluray Full Movie HD
Directed with a slightly overused yet still very affective "artsy" style by relative Hollywood virgin Demian Lichtenstein, GRACELAND starts with a bang. Judging from the television spots and theatrical trailers one would assume the film revolves around the slowly bubbling brewing plan to knock off a Vegas casino dressed as Elvises on International Elvis Night. But that is where you would be wrong. The ten minutes of nonstop action that are a result of the casino robbery (and in a weird dimension almost mirror the bank robbery scene in HEAT)happen in the first ten minutes of the movie; the other 120 minutes, revolve around the aftermath and repercussions of the bloodbath.
Costner, who I swear to God will never do wrong in my eyes, does well for himself departing from the usual character and plays a bad guy. The great thing about this film is that all the characters are bad guys, we just have to decide how bad they are and how much we want to let ourselves care about them. Costner, is the baddest of them all, and eventually it becomes clear that the bad guy we are supposed to care about is the one played by the best "Average Guy" actor of all time—- Kurt Russell (remember BREAKDOWN?)
In any case we have the romance, Courtney Cox and Russell. We have the bloody, cold hearted illegitimate (possibly) son of Elvis, Costner. We have the two cops chasing them, Kevin Pollack and Thomas Haden Church who compliment each other with wonderful chemistry. And we have the slew of supporting actors that plug up any possible holes the film might (but doesn't) have; Howie Long, David Arquette, Bokeem Woodbine (a Black Elvis), Ice-T, Christian Slater. Blah Blah Blah.
This film on the whole becomes the first film in quite some time that I know I will see multiple times in the theater, and one that I am sure I will eventually know all the words to. Making it the fourth of the Costner Movies I can recite word for word (Robin Hood, Tin Cup, Postman)
The relatively young director also made a unique decision in the editing of the film, allowing both of its stars, (Costner and Russell) cut their own version of the film. Costner's version concentrated more on the action, the blood, the guts, the death, the explosion, the "F" word with a strange annunciation of the "G". And Russell's focused on the budding, and slowly blossoming love between Cox and himself. Costner's cut won, but I can't see anywhere that film lacks because of it. overall this is one of the most fully fleshed, well rounded films I have seen in quite a while.